Vegetarian Green Curry over Brown Rice
RECIPE BY David Reamer
Serves 4 | Vegetarian, Vegan, Gluten Free
Active TIME  About 35-40 minutes
Start this recipe  About an hour before you want to serve it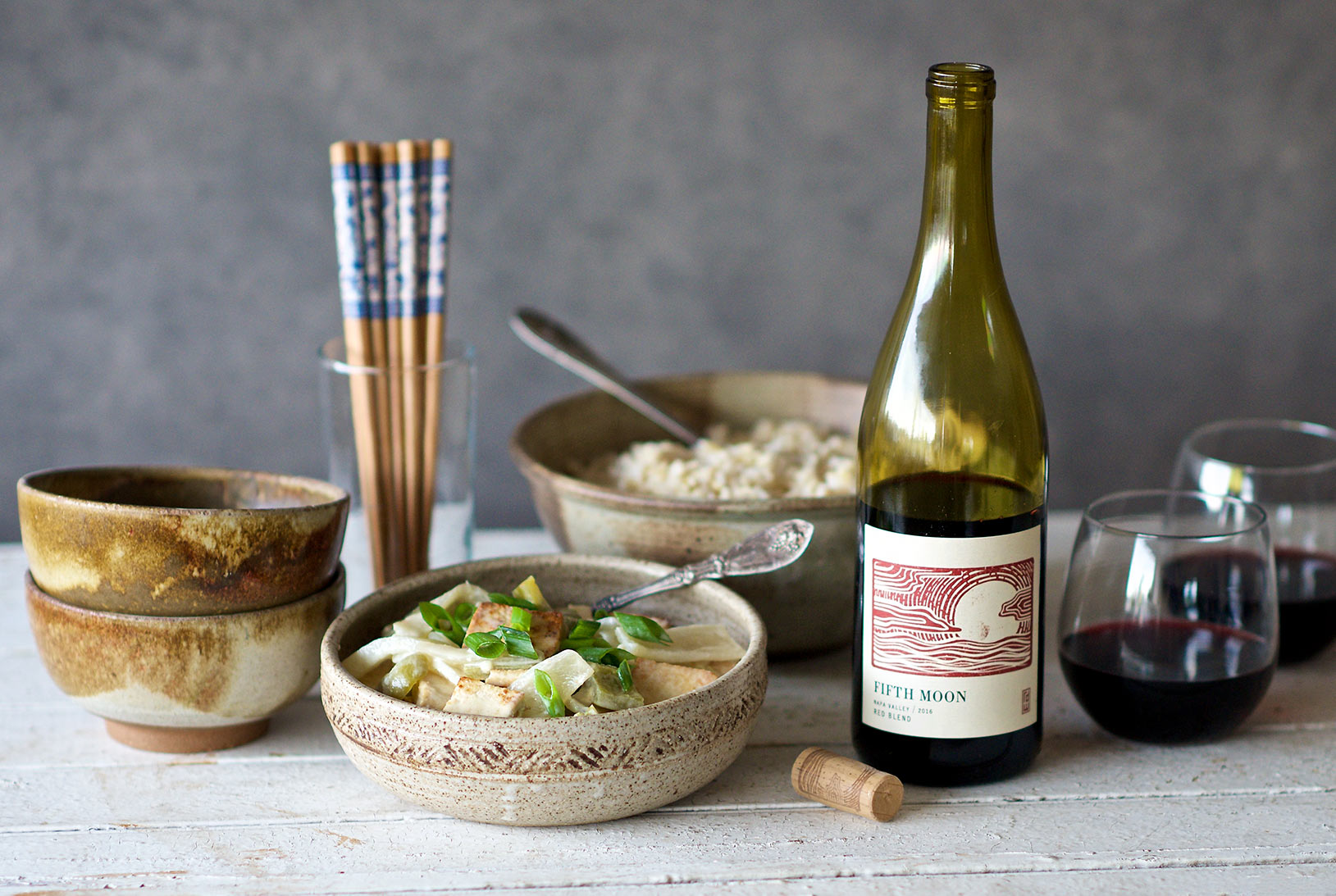 Behind the Pairing
FOR: People who like easy
IDEAL SCENARIO: Cozied up by the fire
WHY IT WORKS: The ripe fruit and soft, supple tannins of this Merlot-based red blend play nicely with the complex flavors of the dish.
Feel that easy-like-Sunday-morning vibe on Tuesday night. This quintessential staple wine moonlights as an impressive dinner party pour. Pairing an everyday red blend with a flavorful, but super simple green curry will delight any palate. Swap in chicken or shrimp in place of the tofu, skip ahead to step 2, and fill your belly with soul-warming goodness. Supple tannins of this Merlot-based wine play nicely with the complex flavors of the dish.
INGREDIENTS
1 block of extra firm tofu
2 T olive oil, divided
1 small yellow onion, sliced
1 green pepper, seeded and sliced
1 can of 13.5 oz full fat coconut milk
1/2 C chicken or vegetable broth
1 T green curry paste
1 t fish sauce (sub vegan fish sauce if desired)
Salt & pepper to taste
Fresh cilantro to garnish
1 1/2 C uncooked brown rice
PREPARATION
Slice the block of tofu in half lengthwise and layer between paper towels. Press between two plates with a heavy weight on top for at least 20 minutes.
Heat 1 T of oil in a pan over medium high heat
Add the onion and pepper and sauté for 10 minutes until just partially cooked. Remove from the pan.
Slice tofu into 1/4 inch strips and add to the pan with remaining 1 T of oil. Sauté on high heat until browned.
Add the onion and pepper back to the pan and add the coconut milk, stock, green curry paste and fish sauce. Stir to combine and lower heat to simmer gently for 20 minutes.
Meanwhile, cook brown rice according to package directions.
Taste curry and adjust seasoning with salt and pepper.
To serve, spoon cooked rice into bowls and scoop curry on top. Garnish with fresh cilantro.