Cremini Mushrooms & Crab Cake with Chenin Blanc
RECIPE BY David Reamer
Serves 4 with Dairy Free, Gluten Free Option
Active TIME  About 35-40 minutes
Start this recipe  About an hour before you want to serve it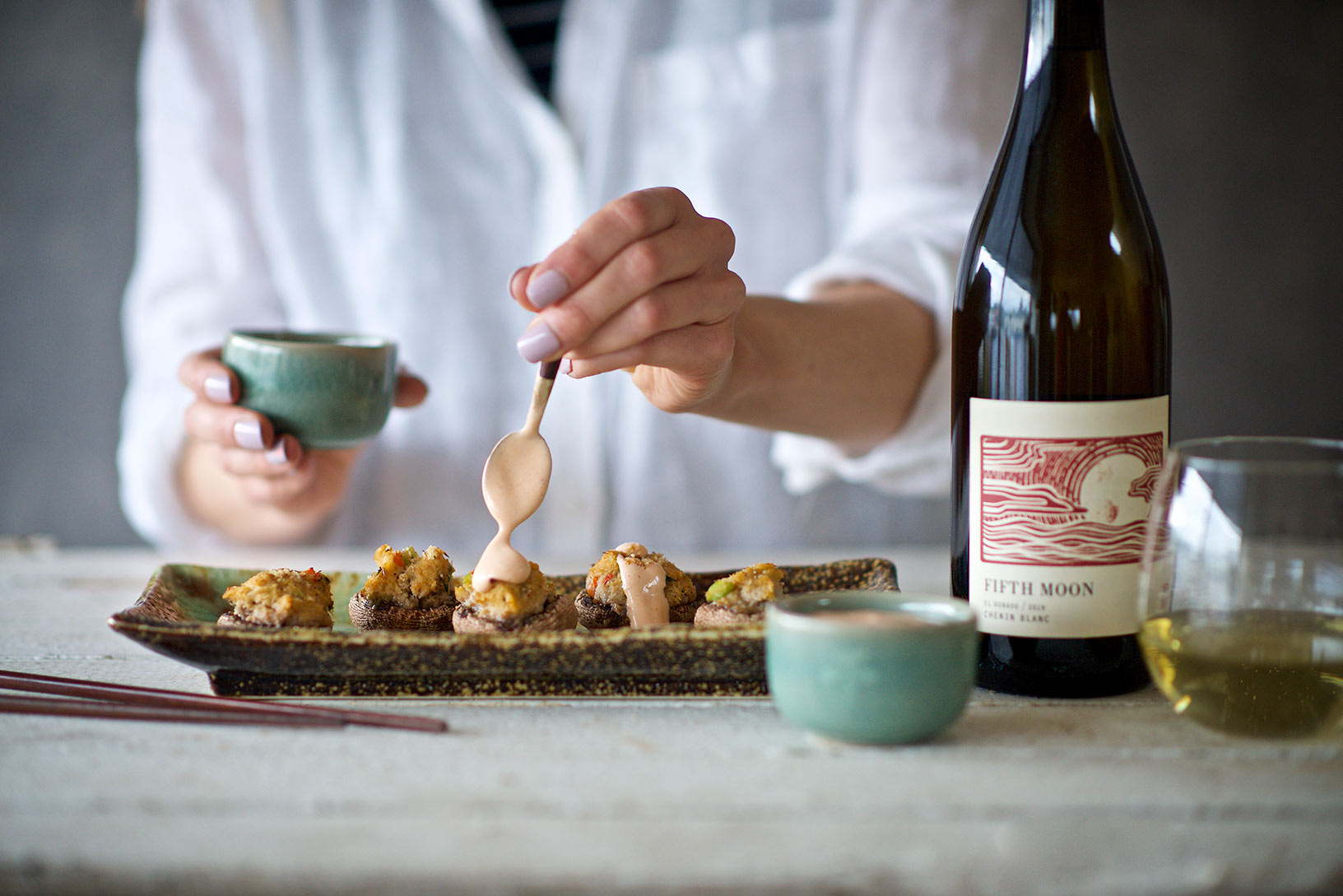 Behind the Pairing
FOR: Fans of versatile medium-bodied white wines
IDEAL SCENARIO: Impromptu cocktail hour with unexpected guests
WHY IT WORKS: The acidity of the wine interacts beautifully with the richness of the crab and aioli, with enough weight to take on a little bit of heat.
The trick here is to keep a can of crab meat in the pantry so you can whip up these little flavor bombs in a jif. This dish comes together so quickly that it can be prepared for a simple dinner alongside a salad or even as a swanky snack. Chenin Blanc is a wonderfully complex wine and superb accompaniment for a variety of dishes. We love that this pairing is unusual enough to delight the most discerning guests, but simple to prepare and enjoy.
INGREDIENTS
Stuffed Mushrooms
16-20 medium to large cremini mushrooms, stems removed
16 oz can of high quality lump crab meat
1/4 to 1/2 C mayonnaise
1/2 small green bell pepper, seeded and minced
1/2 small red bell pepper, seeded and minced
Juice of 1/2 a lemon
3 liberal shakes of Tabasco and Worcestershire sauce
1/4 C breadcrumbs (gluten free, if needed)
Salt and Pepper
Sriracha & Lime Aioli
1/2 C mayonnaise
2 T sriracha
1 T fresh lime juice
1/2 t fish sauce
PREPARATION
For the stuffed mushrooms
Preheat oven to 375F.
Squeeze all liquid from the crab.
Spread the crab meat on a pan and pick thru to make sure all shell pieces are removed and break up larger pieces.
In a medium-sized bowl, mix crab and 1/4 C of mayonnaise. Add more mayonnaise if the mixture is too dry.
Add remaining ingredients and mix well.
Taste and adjust seasoning with salt and pepper.
Stuff each mushroom with a healthy mound of the crab mix. Lightly oil a baking dish, place mushrooms on the dish and bake for 15 minutes until crab mix begins to brown.
For the aioli
Mix all ingredients in a bowl and adjust to personal taste.
Dollop generously on top of each cooked mushroom just before serving.