Holiday Wine Pairings
Christmas Dinner
There are a wide variety of traditions when it comes to Christmas dinner. We selected a few classics, as well as a few less conventional recipes to shake up your holiday table. Plus, we offer up our favorite Christmas wine selections.
Host's Note: If you're serving dinner buffet- or family-style, feel free to uncork and put all the wines on the table. Let your guests try each wine and discover their favorite pairings. For a more curated approach, you might serve the Sauvignon Blanc in the glass as guests are seated. But have the Grenache and Cabernet open and ready to pour. You may also save the Cabernet for the cheese course.
Featured wines

Hundred Knot Sauvignon Blanc
Hundred Knot Grenache
Hundred Knot Cabernet Sauvignon

Christmas Menu

Endive Salad with Kumquats and Pomegranate Arils
Quick Green Beans with Bacon
Roasted Turkey Legs
Cheese Plate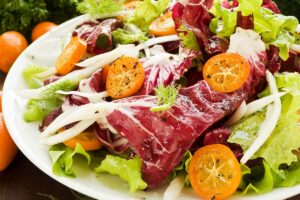 Endive Salad with Kumquats and Pomegranate Arils
Fair warning, this salad is habit-forming. You get sweet, tart, bitter, salty, and creamy, all in one simple, but complexly flavored salad. Make your dressing the night before and stash it in the fridge for one less thing to worry about Christmas Day.
Try it with Sauvignon Blanc
Real talk. Citrus and Sauvignon Blanc are a match made in heaven. The brightness of the wine and salad are beautifully matched and the perfect way to keep an otherwise heavy meal a bit lighter.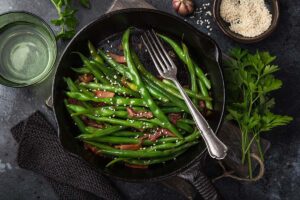 Quick Green Beans with Bacon
Green beans are an awesome go-to side dish anytime you're having company for dinner. They cook up quickly and beautifully. This bacon infused version couldn't be easier and it's a lovely accompaniment to both the white and red wines on the table.
Try it with Sauvignon Blanc
Few wines complement green veggies, but Sauvignon Blanc is an outlier. Its flavor profile includes vegetal notes so this is a case of like going with like. And the nervy acidity is fantastic against the fattiness of the bacon.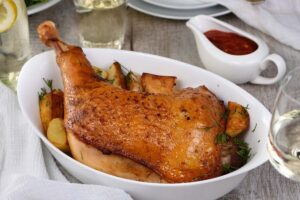 Roasted Turkey Legs
Skip the whole bird and go straight for the most flavorful, juiciest part this year. During the holidays, you can typically find turkey legs at most grocery stores. If you're a household that spends most of Christmas morning opening presents and imbibing on gin fizzes, then you don't have all day to babysit a turkey. In just under 2 hours and minimal work in the kitchen, your beautiful roasted turkey legs will be ready to serve.
Try it with Grenache
Grenache is a quintessential Christmas wine, in our opinion. Co-fermented with Mourvèdre and topped with a splash of Syrah for some added weight, this Grenache easily spans light to dark proteins. And with the juicy dark meat of roasted turkey legs, the combo is delightful.
Cheese Plate
End your holiday feast with an assortment of cheeses. You can go with goat, sheep, or cow's milk, just look for aged or sharp options. Try aged gouda, manchego, or sharp cheddar.
Try it with Cabernet Sauvignon
Nuttier, sharp, or aged cheeses pair beautifully with the complexity of a California Cab. Flavorful cheeses will meet our expressive Cabernet note for note. Just avoid young, soft cheeses, whose delicate flavors may not hold up against a bold wine.