Holiday Wine Pairings
Kwanzaa Feast
Hosting a Kwanzaa dinner? Here are a few classic dishes with suggested wine pairings to maximize flavor and add to the celebration.
Inspired by African, Caribbean, and Southern cuisines, the flavors of Kwanzaa are nostalgic and hearty. While there are no hard and fast rules around what to serve, this time of year our minds immediately go to some of our favorite soul foods– everything crunchy, crispy, and warming. The following menu brings comfort food effortlessly together with complementary wines.
Host's Note: If you're serving dinner buffet- or family-style, feel free to uncork and put all the wines on the table at dinner. Let your guests try each wine and discover their favorite pairings. For a more curated approach, you might serve the Malvasia as a cocktail wine, and pour the Grüner into glasses before guests are seated. Have the Grenache open and ready to pour.
Featured wines

Fifth Moon Malvasia Bianca
Fifth Moon Grüner Veltliner
Hundred Knot Grenache

Kwanzaa Menu

Chicken, Shrimp & Sausage Gumbo
Easy Vegan Mac N Cheese
Collard Greens & Cornbread
Jerk Chicken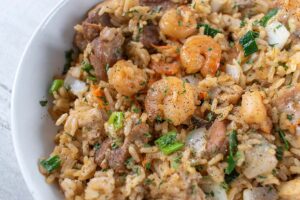 Chicken, Shrimp & Sausage Gumbo
The beautiful thing about this classic Southern dish is that it will infuse your kitchen (and beyond) with intoxicating aromas. Make it with crab legs for extra decadence, or skip them and it will still turn out fantastic. Impressive and only uses one pot!
Try it with Malvasia Bianca
Malvasia is a dream with seafood and dishes with a little kick so this is a match made in heaven.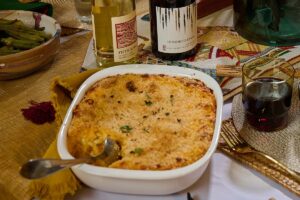 Easy Vegan Mac N Cheese
If you're having a crowd, it's nice to accommodate dietary restrictions and preferences without making multiple versions of a dish. Mac & cheese is satisfying on its own and this version is not only vegan, but it's easy, as the name implies.
Try it with Malvasia Bianca or Grüner Veltliner
The rich creaminess of this dish pairs beautifully with the acidity and minerality of both the Malvasia and the Grüner.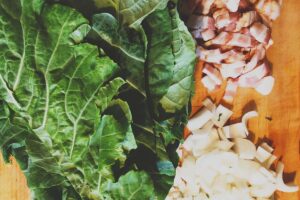 Collard Greens & Cornbread
Collard greens add vibrant color to the table, while the cornbread is, well, a must-have on the side. Prep the greens and vinaigrette the day before.
Try it with Malvasia Bianca or Grüner Veltliner
Malvasia has delightful stone fruit and floral notes that will be a lovely complement to the slight bitterness of the greens. The Grüner's cleansing acidity pairs with a range of vegetables and collard greens are no exception. Another notoriously difficult veggie to pair with wine? Okra! Give it a try with the Grüner as well. We think you'll be surprised.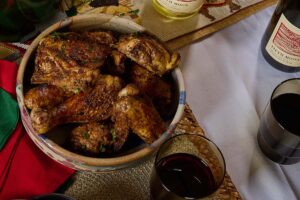 Jerk Chicken
This is a put-all-the-ingredients-in-a-blender kind of recipe, so it's pretty low maintenance. Just be sure to start the night before to let the marinade do its job overnight. Day of, just pull the meat out and grill. Couldn't be simpler.
Try it with Grenache
The red fruit, pepper, and chocolate notes inherent in this wine play right into the signature spices of jerk chicken.