Holiday Wine Pairings
Hanukkah Dinner
Like most holidays, there is no one set of culinary traditions for Hanukkah, but there are a few staples that feel like must-haves. Not to mention, these are some serious wine-loving dishes. And in case it doesn't go without saying, our wines aren't kosher. Although if you're here, you probably knew that already.
Host's Note: If you're serving dinner buffet- or family-style, feel free to uncork and put all the wines on the table. Let your guests try each wine and discover their favorite pairings. For a more curated approach, you might serve the Grüner as an aperitif or in the glass as guests are seated. Have the Chardonnay and Zinfandel on the table, corks popped and ready to pour.
Featured wines

Fifth Moon Grüner Veltliner
Hundred Knot Chardonnay
Hundred Knot Zinfandel

Hanukkah Menu

Roasted Beet Salad
Potato Latkes & Applesauce
Slow Cooker Brisket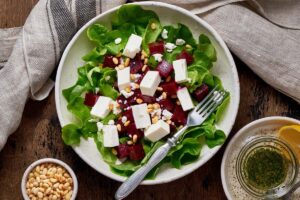 Roasted Beet Salad
Beets are delicious, healthy, and bring a splash of color to the table. This recipe is ridiculously easy and a simple way to let olive oil shine during this moment of appreciation.
Try it with Grüner Veltliner
This beet salad hits all the right notes with Grüner. The wine's minerality and spice shine with the greens and the earthy, sweet beets. The creaminess from the feta is a great match for the wine's acidity. Clean, bright and the perfect way to start a meal.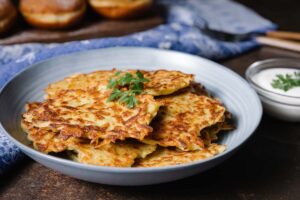 Vegan Potato Latkes
-OR-
Potato Waffle Latkes
If you're super impatient or crunched for time, use the waffle hack. Seriously. Stick them in your waffle iron and they'll be done in a fraction of the time, and require far less oil. However you make your latkes, don't forget the warm applesauce!
Try it with Grüner Veltliner or Chardonnay
While often paired with champagne, Grüner is a great stand in and a whole lot more affordable. It's acidity and minerality lift the deliciously greasy latkes, begging you to follow each bite with a cleansing sip. Chardonnay, though a slightly lusher wine, still brings amazing crisp acidity to make this pairing downright delightful.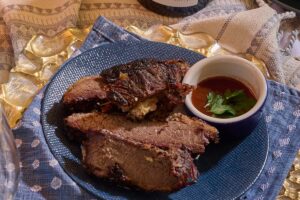 Easy Slow Cooker Brisket
Brisket hack 101– pull out the slow cooker! Simply prep the sweet and tangy sauce, then pour it over your brisket in a slow cooker and walk away. Even better, this recipe can be prepared up to 3 days in advance. Even better than that, the dishes will be kept to a minimum.
Try it with Zinfandel
All the dark fruity, peppery goodness is amplified with a melty brisket recipe like this one. To say the flavors are just complementary would be an understatement.