Grilled Flatbread with Marinated Tomato & Cucumber Salad
RECIPE BY David Reamer
Serves 4 | Vegetarian, Vegan
Active TIME  About 35-40 minutes
Start this recipe  The night before if making the hummus from scratch
Equipment  Food processor, grill (or a standard pan)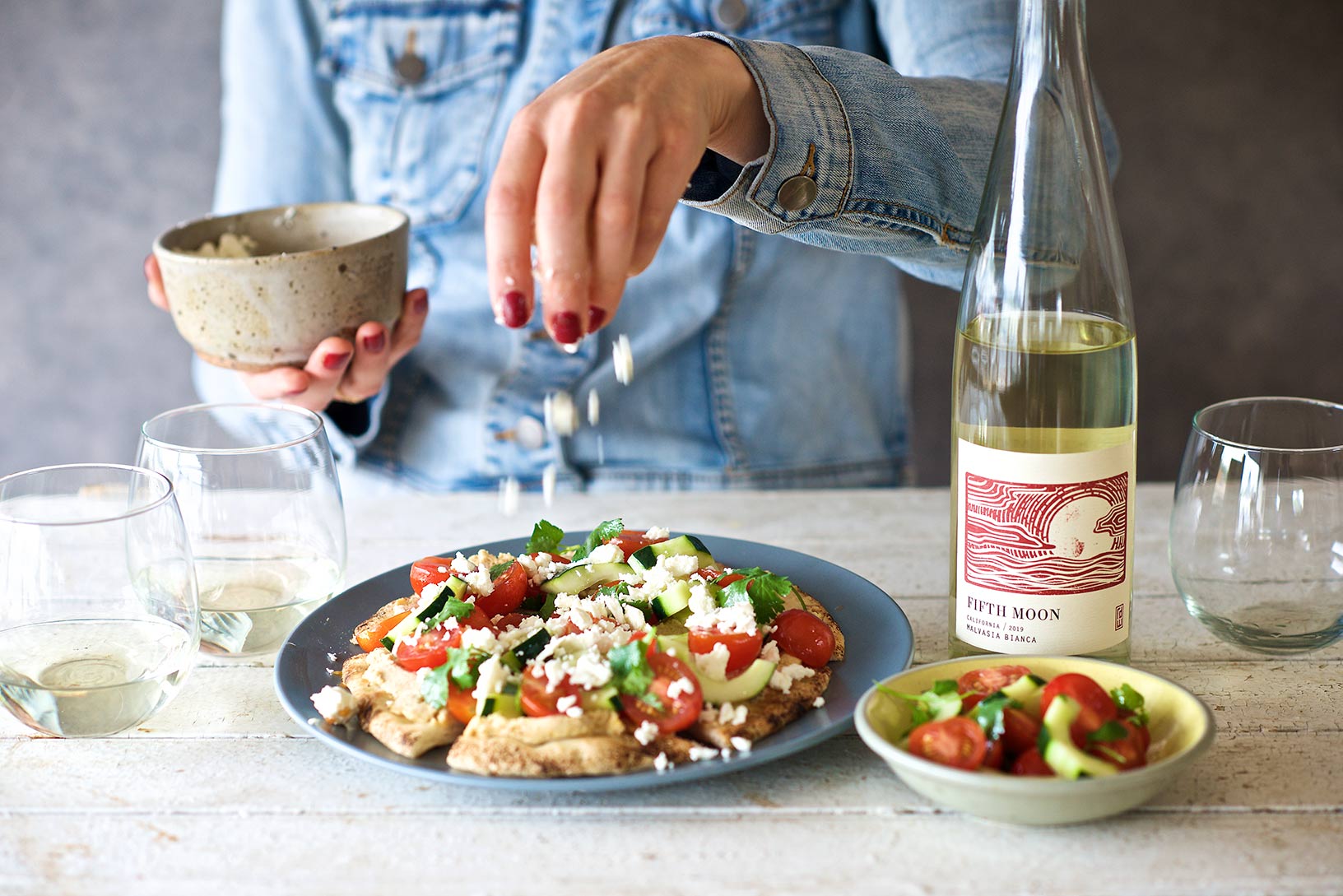 Behind the Pairing
FOR: People who like making memories
IDEAL SCENARIO: Picnic on the beach
WHY IT WORKS: This take on Malvasia Bianca is dry and crisp, bursting with floral notes and minerality making it an exquisite companion to a Mediterranean-inspired dish.
Malvasia Bianca has an almost divine aura about it. From the luminous liquid in the bottle to the euphoric aromas in the glass, this is a wine that will give you goosebumps with each sip. Such an expressive wine deserves fresh, uncomplicated food.
INGREDIENTS
Grilled Flatbread
2 Flatbread
Extra virgin olive oil
Salt
Hummus
3 small cloves of garlic, peeled
1 can of chickpeas, drained and rinsed
Juice of 1/2 a small lemon
2 t sesame oil
Olive oil
Salt & pepper to taste
Marinated Cherry Tomato & Cucumber Salad
1 pint of cherry tomatoes, halved
1 large cucumber
2 T lemon juice
1 T rice wine vinegar
Extra virgin olive oil
Salt & pepper to taste
Fresh cilantro and mint
1/2 C feta cheese crumbles (skip if vegan)
PREPARATION
For the Flatbread
Preheat grill to high. (Alternately, heat up a grill pan or standard pan)
Brush a light amount of olive oil onto each side of the flatbread and sprinkle with salt.
Grill on each side until just lightly browned. Be careful not to burn. They will cook quickly.
For the Hummus
Place the garlic cloves into a food processor. Pulse until garlic is finely minced.
Add the chickpeas to the food processor and pulse for about 30 seconds.
Add the lemon juice and sesame oil. With the food processor running, very slowly drizzle olive oil in until it creates a smooth consistency.
Season with salt and pepper. Put in the refrigerator overnight to firm up and let the flavors integrate.
For the Tomato & Cucumber Salad
With a peeler, peel strips from the cucumber making a striped pattern.
Cut lengthwise and remove the seeds with a small metal spoon.
Slice cucumber into half moons.
Place tomatoes and cucumber into a bowl. Add lemon juice, vinegar, and olive oil. Mix well.
Season to taste with salt and pepper.
Add chopped fresh cilantro and mint.
Assemble
Spread a liberal amount of hummus on each flatbread.
Cut each into 6 triangles.
Arrange on a plate and generously cover with marinated vegetables and crumbled feta cheese.