Grilled Five Spice Steak Salad Lettuce Wraps with Syrah
RECIPE BY David Reamer
Serves 4 | Dairy Free, Gluten Free
Active TIME  About 35-40 minutes
Start this recipe  The night before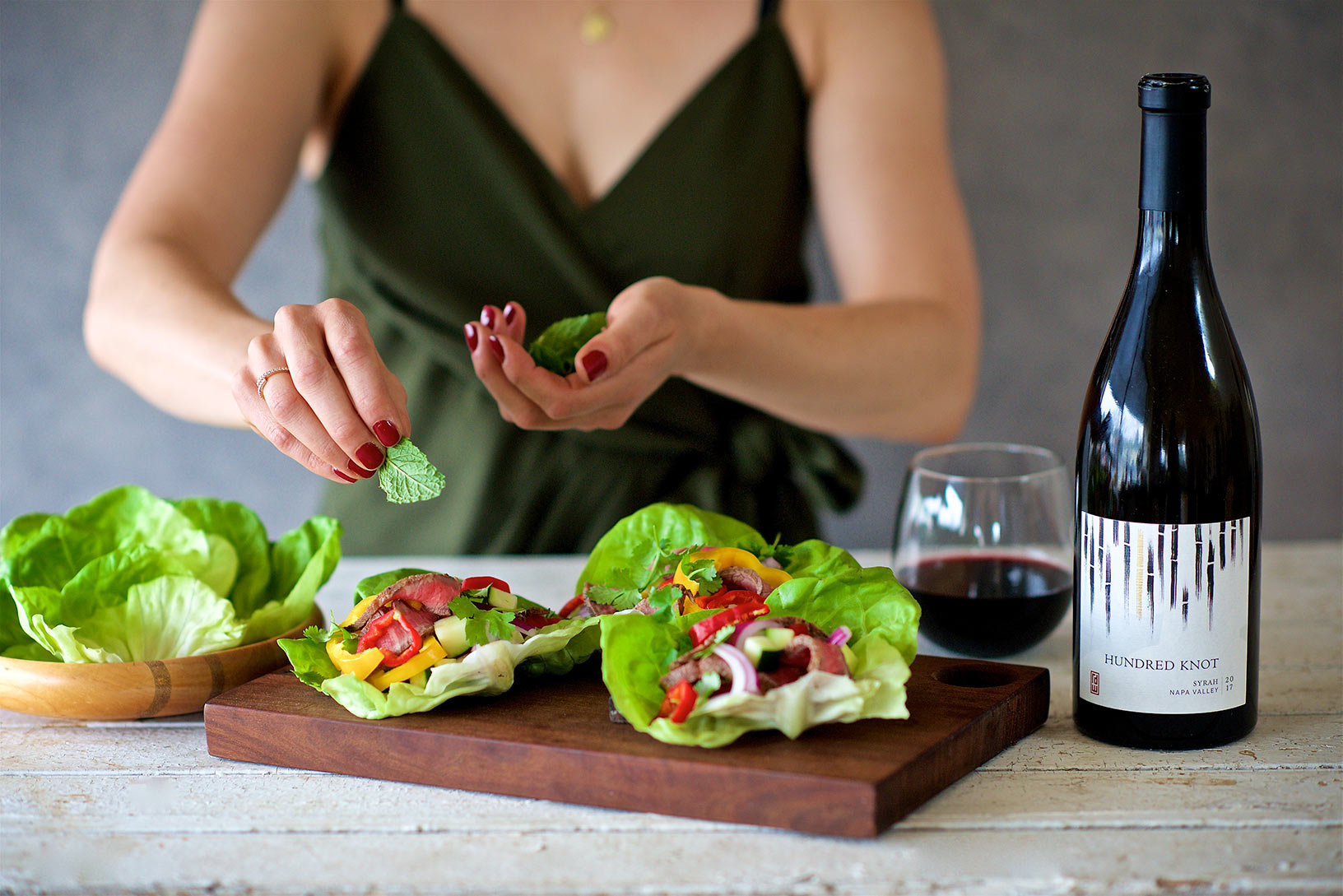 Behind the pairing
FOR: Ordinary people who like extraordinary things
IDEAL SCENARIO: A fancy-ish evening at home
WHY IT WORKS: In this case, like goes with like. Grilled red meat with a five-spice rub is perfectly attuned to the flavor profile and density of this luscious Syrah.
There's something so comforting about a warm climate Syrah paired with steak. To balance the opulence we added delicate butter lettuce and crunchy fresh veggies to the mix for a pleasantly harmonious duo. The best part? You can eat with your hands. No silverware means fewer dishes.
INGREDIENTS
Five Spice Steak
2 T of pre-made five spice mix or homemade:
1 t ground cinnamon
1 t crushed anise seed
1/2 t crushed fennel seed
1/2 t freshly ground black pepper
1/8 t ground cloves
Olive oil
1 T salt
1 lb flat iron steak
Butter Lettuce Wraps
2 heads of fresh butter lettuce, with 8-10 large leaves removed, rinsed and dried
1/2 cucumber, seeds removed, cut into 1/4 inch squares
1 yellow bell pepper, seeded and thinly sliced
1 red bell pepper, seeded and thinly sliced
1/2 red onion, thinly sliced
Fresh cilantro, mint & green onion for garnish
Sauce
1 T rice wine vinegar
2 T fresh lime juice
1 T water
3 T simple syrup
2 T Huy Fong Chili Garlic sauce (Available at most grocery stores near the Sriracha. Sub Sriracha in a pinch)
1/2 t fish sauce
PREPARATION
For the Steak
Preheat grill to high.
Lightly oil the raw steak and coat well with the five spice mix and salt.
Cook steak for 3-5 minutes on each side, depending on thickness, until steak is rare.
Rest a room temperature for 10 minutes, then wrap well and place in the refrigerator overnight.
For the Lettuce Wraps & Sauce
Mix all sauce ingredients in a bowl and season to personal taste.
Add the cucumber, peppers, and onion. Marinate for an hour.
To serve, place individual lettuce leaves on a platter. Fill each halfway with marinated vegetables.
Thinly slice the chilled steak and add 3-4 slices onto each lettuce leaf.
Add freshly chopped cilantro, mint, and green onion.
Top each wrap with a little of the vegetable marinade.