6-minute Eggs, Plum Sauce, Scallions & Gruner Veltliner
RECIPE BY David Reamer
Serves 4 | Ovo-Vegetarian, Dairy Free, Gluten Free
Active TIME  About 40 minutes
Start this recipe  About an hour before you want to serve it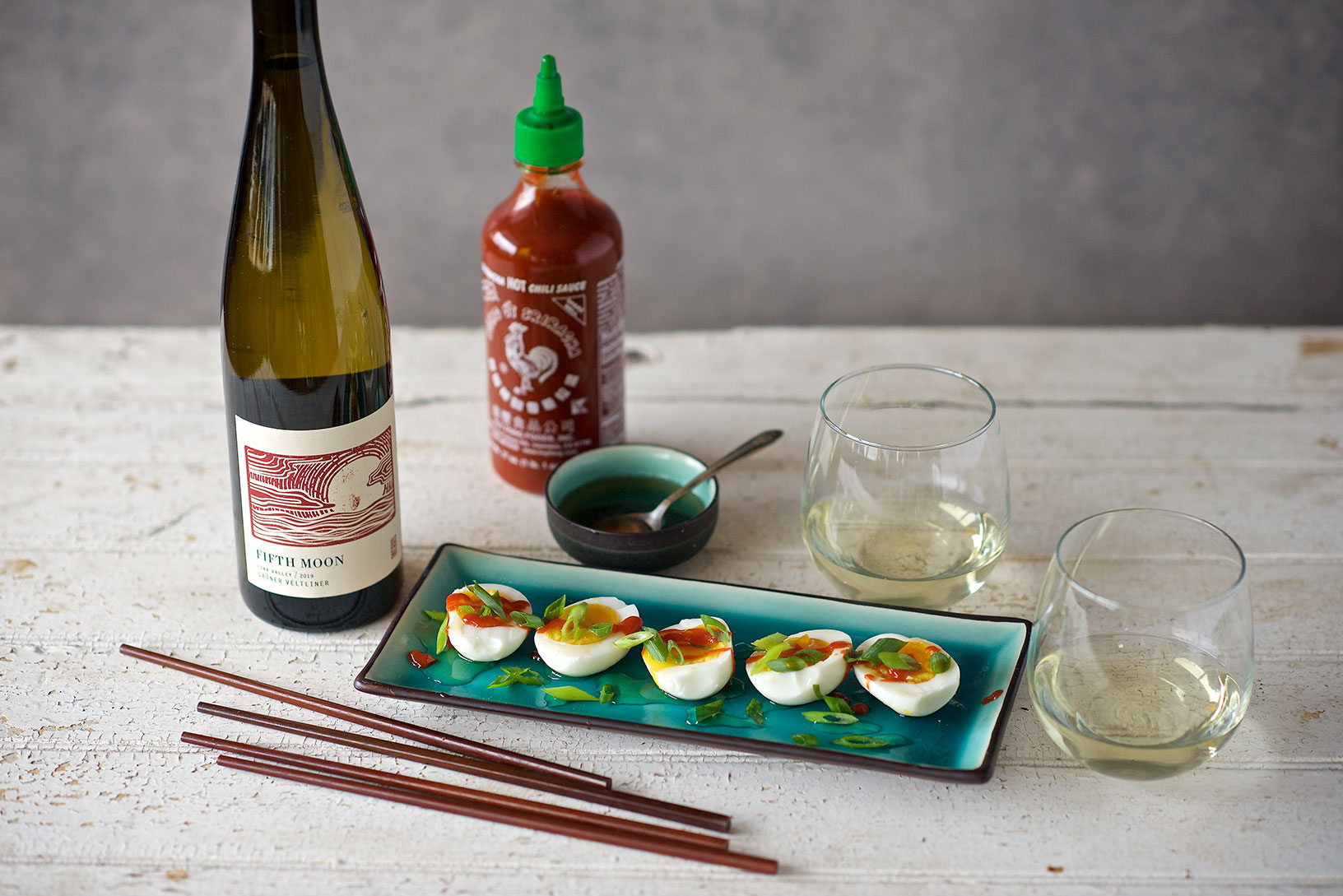 Behind the Pairing
FOR: The intrepid foodie wannabe in all of us
IDEAL SCENARIO: Breakfast, lunch, or dinner
WHY IT WORKS: The complex profile and clean finish of Grüner Veltliner are a lovely match with Asian flavors.
Don't let this dish scare you off. If you enjoy a creamy soft-boiled egg with a delicate center, the 6-minute method will blow your mind. This simple recipe presents quite luxuriously alongside the Grüner for brunch or as an hors d'oeuvre. There's a delightful balance of creaminess from the egg, tangy sweetness from the plum sauce, spice from the Sriracha, and mild pungency from the scallions. What more could you ask for?
INGREDIENTS
8 fresh large eggs
1 T salt
Plum sauce (Available at most Grocery stores near the Sriracha)
Sriracha
Green onions, thinly sliced for garnish
PREPARATION
Bring eggs to room temperature.
Fill a large bowl with ice and water and set aside.
In a pot large enough for all the eggs to fit in a single layer, bring 3 inches of salted water to a boil.
Reduce to a constant simmer. Carefully add all the eggs and cook for exactly 6 minutes (use a timer!), making sure water stays at a constant low simmer.
When the timer goes off, gently place all of the eggs into the large bowl of ice water for 20 minutes.
Remove eggs and dry on a dish towel.
When ready to serve, very gently crack the shells and peel in the sink under gently running room temperature water.
Cut the eggs in half. Be careful, the yolks will be very soft.
To serve, place halved eggs on a tray and drizzle with plum sauce and Sriracha and sprinkle with green onions.