Seasonal Foodie Featured Maker
Meet KPOP Foods Co-Founder, Theo Lee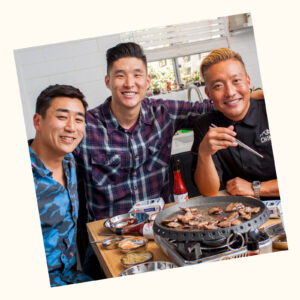 KPOP Foods launched their sauces to introduce more people to the incredible flavors of Korean cuisine. Inspired by traditional recipes, the sauces are versatile enough to go beyond the expected dishes, working seamlessly into your daily menu. We love how we can enjoy KPOP sauces on just about anything that deserves some tasty Korean flair.
We caught up with Co-Founder Theo Lee to learn more about why he started the KPOP Foods and what he hopes people experience when they try the sauces.
What inspired you to start your business?
Growing up, we'd have family reunions at my grandmother's house and I remember everyone would be running around preparing dinner. There would be galbi, homemade banchan (Korean side dishes), stews, and so much more – my whole family would sit and eat for hours.
Fast forward to business school, where I met my co-founder Mike Kim. We would always take our classmates out to Koreatown in LA and they'd love the food, regardless of whether they had it before, as well as the experience. When they asked about where to find some of the ingredients and foods closer to where they lived, Mike and I realized the accessibility and awareness for Korean food was really limited. We wanted to find a way to share the Korean food and flavors we grew up on with the world, hence the beginning of KPOP Foods.
Our goal and mission is to increase accessibility, awareness, and knowledge for Korean food and flavors. By doing this, we hope to uplift spirits and bring people closer together through food.
What do you love most about food and cooking?
For me, food is a way to experience culture. Anytime I travel to other countries, I always look forward to tasting the local foods, and taking part in the customs. Additionally, I love playing with authentic flavors and trying to create something new – I remember the first time hearing about kimchi quesadillas, it was something I never would've considered combining, but when I tried it, it was incredible. There's always something new to learn or think about with cooking and I think it's exciting.
What is your go-to comfort food?
My go-to comfort food is Bossam, or Korean steamed pork belly wraps. Eating this with cabbage, or some leafy greens, such as sesame leaves, with pickled radish, a little bit of kimchi, jalapenos, and sauce, almost like a taco, is something I can eat every day!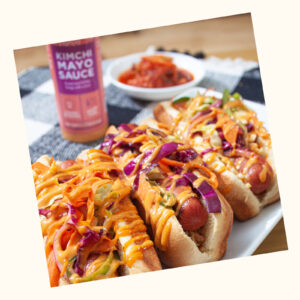 first time?
Describe your dream dinner. Who's there, what are you eating, what are you drinking?
What a great question! I recently got engaged and my fiancé, Natalie, is Vietnamese-American and so lately, I've been enjoying a lot of Vietnamese food over the weekends. My dream dinner would be a mix of Korean and Vietnamese food with family and friends – replicating the family reunions at my Grandmother's now with my fiancé, her family, and all of our friends. Haha, oddly enough, this sounds a lot like our wedding.
What is your hope for people experiencing your product for the first time?
I hope they enjoy the flavors, and this opens their mind to trying other Korean foods and flavors. It's also always great seeing how people incorporate the sauces into their own everyday recipes and meals – from marinades, crab cakes, to traditional Korean foods like bibimbap and more.
Are you a wine drinker? Any particular kind of wine you're loving right now?
I do enjoy my wine but I'm far from a knowledgeable connoisseur. Lately, I've really been into Pinot Grigios.
What most excites you about this food and wine pairing?
I'm excited to see the foods that people pair with the sauces and wine – from unique fried Korean street foods with the Honey Glaze to sandwiches with our Kimchi Mayo to BBQ rice bowls with our Original Korean Chili Sauce, of course all pairs with some great wine!
The RD Winery + KPOP Foods Seasonal Foodie Box is available to members for a limited time.