Seasonal Foodie Featured Maker
Meet Fly By Jing Founder, Jing Gao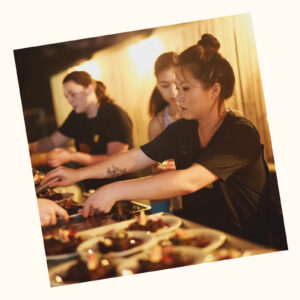 We cannot get enough of Fly By Jing's delightfully spicy and umami-rich Sichuan Chili Crisp and Mala Spice Mix. The flavors are out of this world and will add a little excitement to a range of wine-friendly dishes.
We had a chance to ask founder Jing Gao a few questions about her foodie tendencies and what flavors she can't get enough of.
What inspired you to start Fly By Jing?
I was inspired to start Fly by Jing as a modern Asian food company after its first iteration as a traveling supper club. I would cook Sichuan-inspired dinners around the world, and after seeing how people's eyes lit up when they tried these incredible flavors, I knew there was something there. My Sichuan Chili Crisp, the first product I launched, was a base for a lot of the dishes I would cook, and people loved it.
During the pandemic especially, home cooks have been looking for ways to inject more flavor into their cooking. Fly by Jing solves that problem by bringing the bold, warm, bright, unexpected flavors of Sichuan cuisine to kitchens.
What do you love most about food and cooking?
At Fly by Jing, our motto is "not traditional, but personal." I love that food and cooking allow you to be wildly creative and to express yourself in a way that is wholly personal to you.
What is your go-to comfort food?
A favorite is mapo tofu. One of Sichuan's iconic dishes, it's spicy, rich, warming, and creamy all at once — and it's packed with umami. Mapo tofu over steamed rice just might be my "last meal" dish.
What most excites you about this food and wine pairing?
I'm really excited to see that RD Winery is reaching beyond the expected (let's be honest, European-focused) profiles to highlight how delicious Asian flavors are with wine. At Fly by Jing, our goal is to expand the perception of Asian food, and showcasing how well it pairs with wine is another step forward.
What is your hope for people experiencing your starters for the first time?
My hope for people experiencing Fly by Jing's sauces for the first time is that they'll make part of their cooking arsenal and really make them personal. We encourage cooks to experiment in the kitchen. Like chili crisp on ice cream? Go for it. Zhong sauce on pizza? You do you!
Describe your dream dinner. Who's there, what are you eating, what are you drinking?
When I host a dinner party I usually get a big chunk of pork jowl or shoulder or belly: Making a big pork dish is typically my go-to. During the pandemic I found an amazing pork purveyor in L.A., where I'm based, called Peads & Barnetts. They raise Berkshire hogs and sell every part of the pig. I've been missing those big pork dinners, but now that I've moved into a new place with a backyard, I've got an outdoor dining setup that's perfect for hosting in a post-vaccination world. Homestyle and comfort food is usually what I reach for these days—and company to match. Just close friends, chosen fam, and a good bottle of wine is a perfect night for me.
Are you a wine drinker? Any particular kind of wine you're loving right now?
Yes, I'm a wine drinker! I love a light and effervescent wine – I'm enjoying pét-nat wines at the moment.
The RD Winery + Fly By Jing Seasonal Foodie Box is available to members for a limited time.