The Curious Wine Drinker's Guide to Sauvignon Blanc
Grass, bell pepper, cat pee? When it comes to Sauvignon Blanc, you either love it or hate it. If you're in the less enamored camp, we implore you to keep reading. Not all wine is created equal. Knowing more about a wine and what to look for will help you select the right one and make the overall experience much more pleasurable. From determining the best pairings to serving your wine at the ideal temperature, we share some of the best-kept secrets behind enjoying the ultimate glass of Sauvignon Blanc.
First things first.
How to pronounce Sauvignon Blanc: (soh-vin-yohn -blahngk)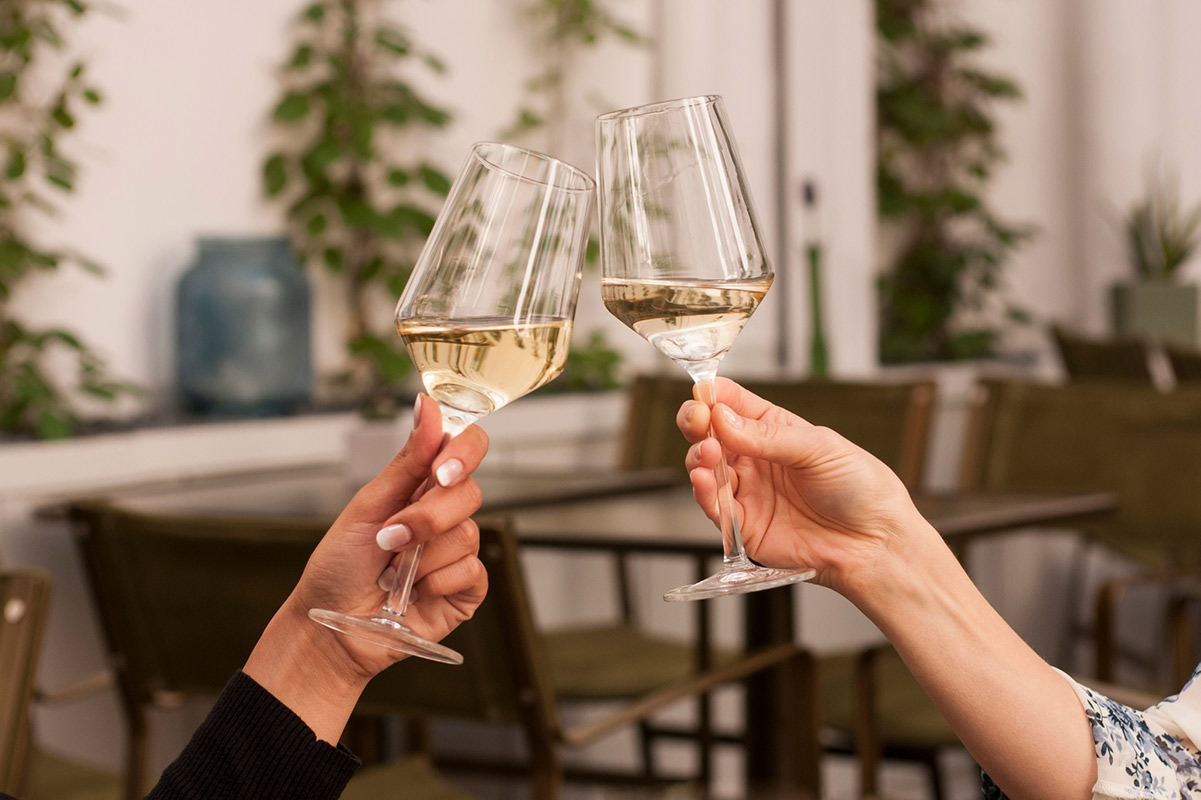 What is Sauvignon Blanc?
This yellowish-green-skinned grape hails from France and was brought to prominence by the regions of Bordeaux and the Loire Valley. As the "blanc" (meaning white) part of the name indicates, it's vinified as a white wine.
How is Sauvignon Blanc made?
After it's hand harvested, Sauvignon Blanc grapes are typically whole-cluster pressed, meaning the entire cluster, stem and all, is tossed into a press. The juice is then moved to either 100% stainless steel, or a combination of stainless steel and barrel, for fermentation. Concrete is another vessel that, while less popular, is well-suited for fermenting Sauvignon Blanc.
At RD Winery, our Sauvignon Blanc is entirely from Napa Valley vineyards, as the region is beautifully suited to the variety. In 2020, we also began working with Sauvignon Musque, a pleasantly aromatic Sauvignon Blanc clone. At harvest, all of the grapes are whole-cluster pressed together the day they're harvested to preserve varietal character and freshness. The juice is then fermented slow and cold to dryness with 20% in barrel and the rest in stainless steel. We use one new acacia barrel each year to lend elegant white blossom aromatics. This combination gives the finished wine a slightly weightier, lush quality while maintaining vibrant fruit and steely characteristics.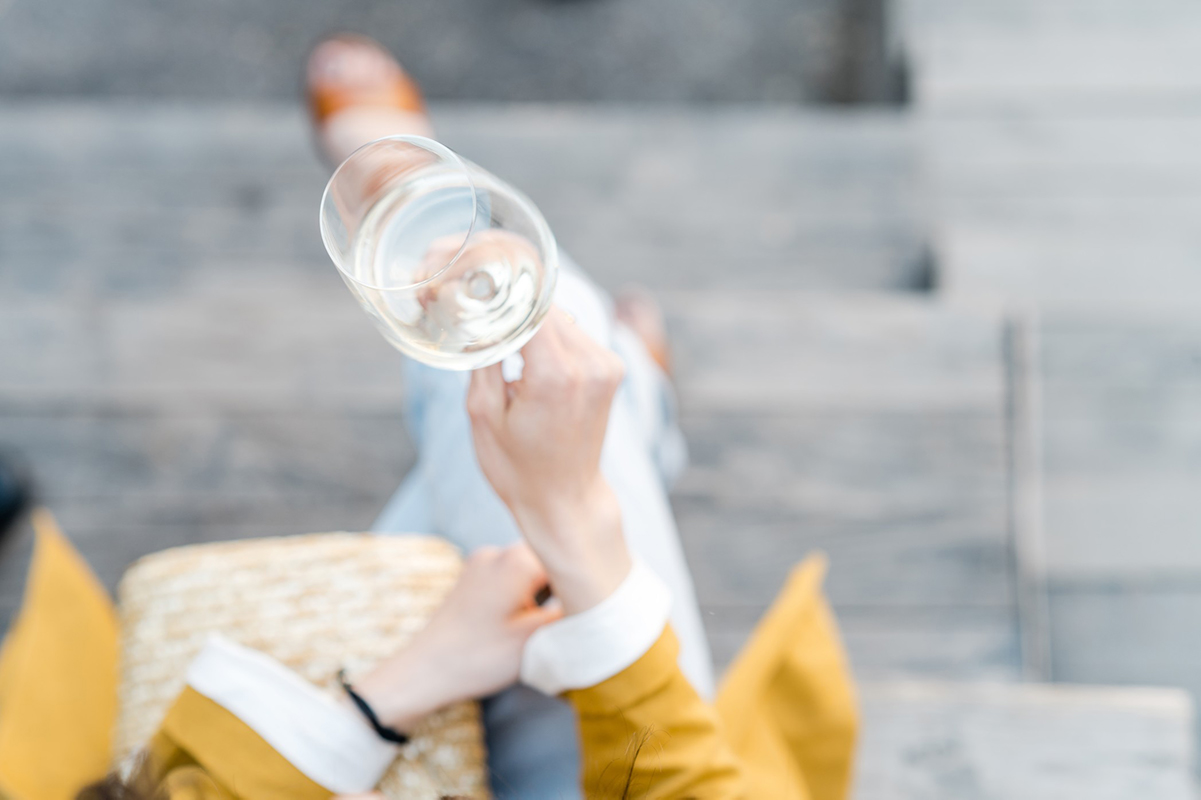 Is Sauvignon Blanc dry or sweet?
In France, the Sauvignon Blanc is fermented dry, meaning no residual sugar (or very little) is left behind, unless it's Sauternes. (Sauternes is a sweet botrytized wine made from Sauvignon Blanc, Sémillon, and Muscadelle grapes.) In California, Sauvignon Blanc can be found either dry or with small amounts of residual sugar left for a slightly sweeter or "off-dry" take. Our Sauvignon Blanc is bone dry, just how we like it.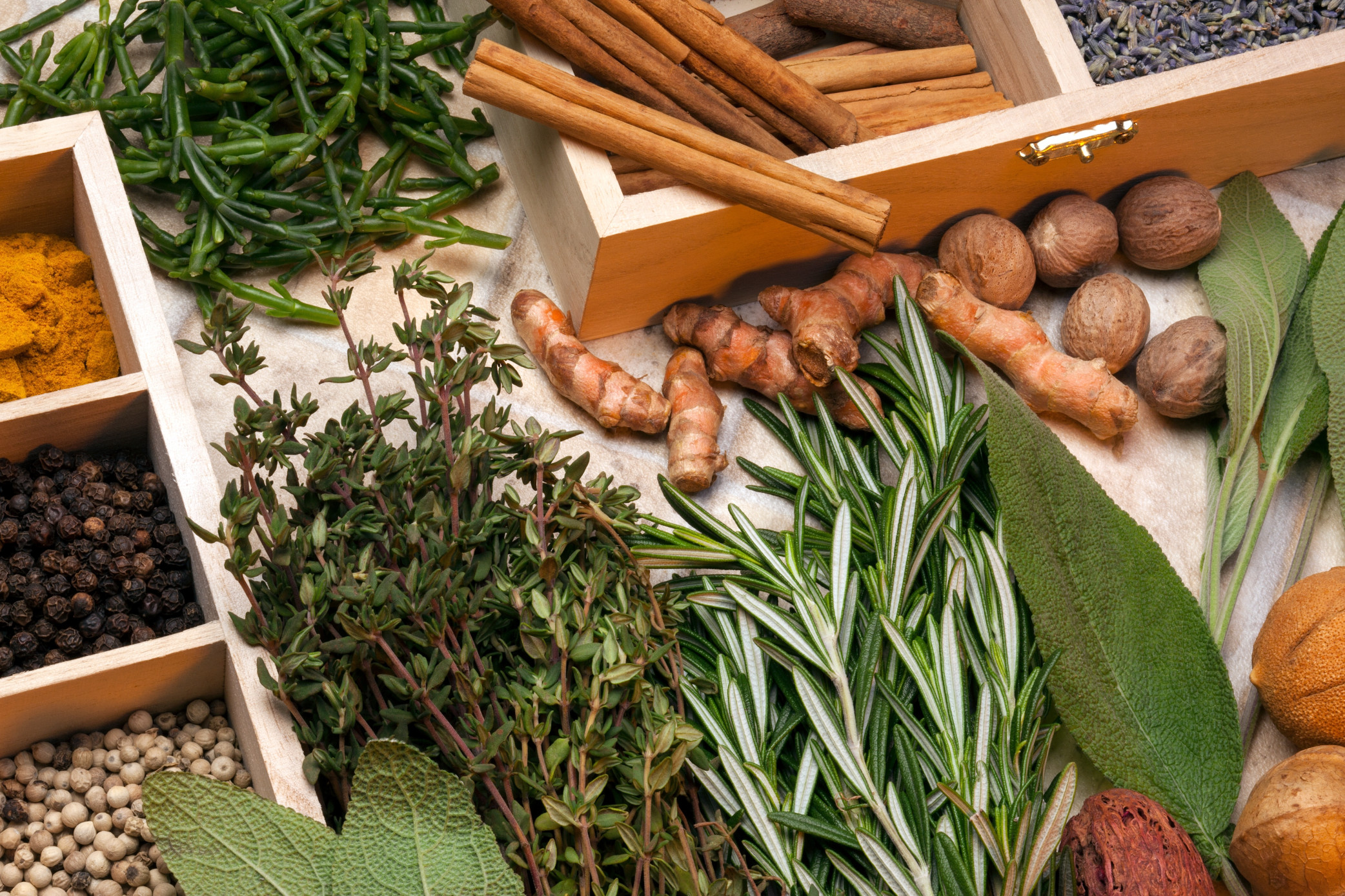 What does Sauvignon Blanc taste like?
Depending on the climate, vintage, and soil, stone fruit (think peaches or nectarines), tropical fruit (think passionfruit and guava), as well as lime, green apple, basil, and lemongrass are all characteristic of Sauvignon Blanc.
Unusual flavors
Sauvignon Blanc is also well-known for its herbaceous or green flavors, imparted by a chemical compound called pyrazine. These tend to come across as notes of grass, herbs or, bell pepper, which to many palates is where the make or break happens. These flavors are typical of cooler regions.
The riper the grape gets, the fewer pyrazine characteristics, and the more tropical the flavors. So if you're not a fan of vegetal-leaning wines, look for Sauvignon blanc from traditionally warmer regions, such as California, Australia, and South Africa.
What's the deal with cat pee?
Just as pyrazine imparts herbaceous notes, another compound called a thiol is responsible for the characteristics such as grapefruit, passionfruit, and on occasion, cat pee. Thiols are formed during the fermentation process. When the conditions are right, one particular thiol is akin to cat pee.
If this doesn't sound like your cup of tea (or glass of wine), the good news is that it is typically an anomaly (albeit a desirable one) in wines produced in New Zealand's Marlborough region.
The best way to decide which Sauvignon Blanc suits your taste? Try a handful of similarly-priced bottles from different regions –cool and warm, Old and New World– and see what pleases your palate.
Maintaining balance
Sauvignon Blanc is also renowned for its brilliant and refreshing acidity. So while you may prefer the style from warmer climates, a good Sauv Blanc is crafted with balanced acidity. To achieve this in places where the temperatures trend toastier, vineyards are often farmed at higher elevations, in cooler appellations, or on sites where the warm days are complemented with cool nights. Our fruit comes from trusty old vines on an east Napa Valley site. The fruit is harvested in the cool early morning hours to ensure the sugars and acidity remain in check. With the 2020 vintage, we've begun working with fruit from a high elevation, low yielding vineyard, at 1,000 feet, which produces tiny clusters of stunning Sauvignon.
To oak or not to oak
If a wine sees any oak (meaning a portion of the fermentation or aging process involves putting the wine into oak barrels), it can lend a creamier texture and richer flavors, typical of oaked wines. Too much oak on an expressive wine like Sauvignon Blanc and the distinctive fruit characteristics will be lost or compete with flavors imparted by the barrel. Working with a portion of the wine in oak is certainly not the easiest path to take, but we believe it yields the best results.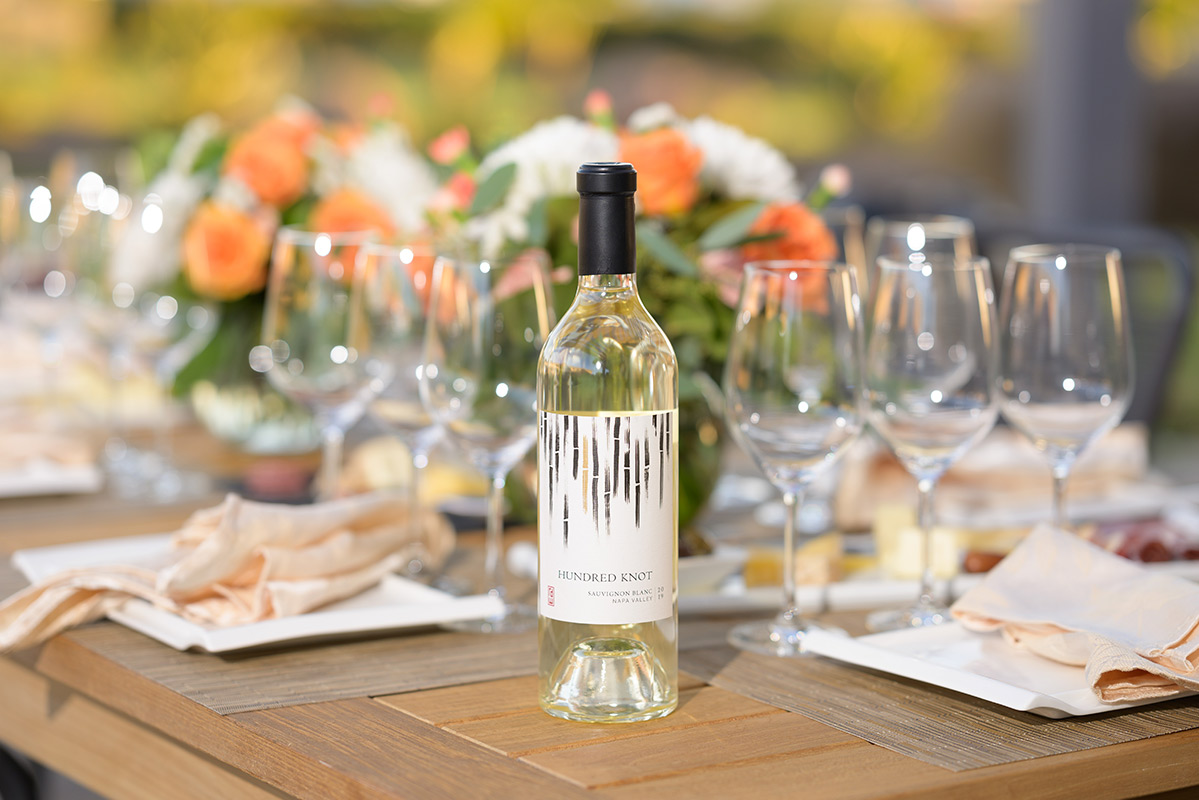 How to enjoy Sauvignon Blanc
As with most light but expressive whites, this is a wine that's meant to be enjoyed young, with some exceptions. Rather than hiding it in the back of a closet or wine fridge for years, you should pop the cork within the same year that you purchased it, and typically want to look for bottles from last year's vintage.
Enjoy your Sauvignon Blanc chilled. Serve it at 45-50°F. This is a wine that is made to be refreshing. It should dance a little on your tongue. If you pick up a bottle from the store, stick it in the fridge for at least an hour before serving. And if it's a warm day, keep your wine on ice to ensure every sip is as satisfying as the one before.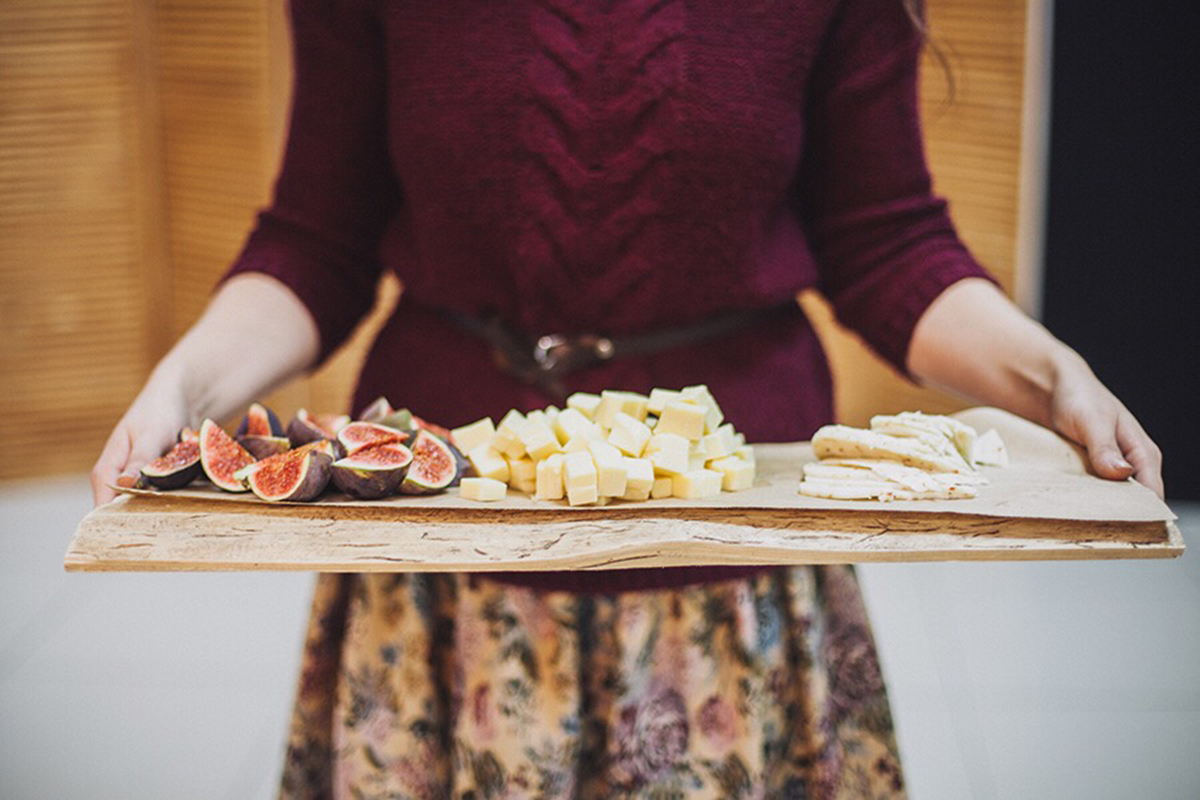 The best Sauvignon Blanc pairings
Sauvignon Blanc is lovely as an apéritif before the meal has begun. If it's a casual weeknight, enjoy a glass while you're cooking. If you're making seafood or a vegetarian dish, bring the bottle to the table too. If you're having a fancy-ish dinner party, pair Sauvignon Blanc with the apps or first course. A tried and true staple in the Loire, and one of our favorite accompaniments, is fresh local goat cheese.
While it might be counterintuitive, a wine that's high in acid will support an acidic dish. The acid in the meal will mellow the wine and bring out the fruit. For Sauvignon Blanc, try a salad, grilled shrimp, or fresh halibut dressed with a citrus vinaigrette. If the dish is light and bright, chances are it will pair beautifully with a Sauvignon Blanc.
Sauvignon Blanc may be intimidating or appear to come with some baggage, but in reality, it is one of the most easy-drinking, food-friendly wines around. If you've been skeptical in the past, give it a try. We think you will be pleasantly surprised.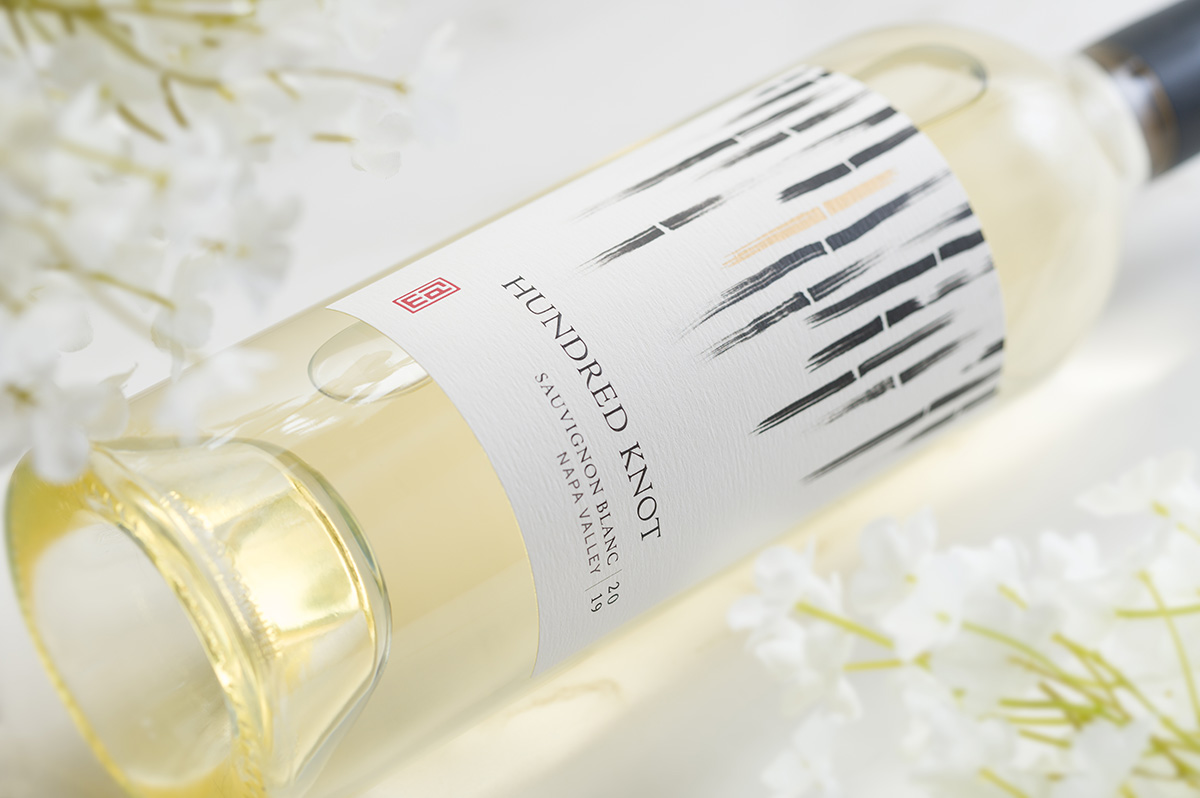 More Fun Facts About Sauvignon Blanc
Not yet satisfied and want to know more about this sensational grape? Hold on tight. It's about to get real nerdy!
Fun Fact #1
The name "sauvignon" is derived from two French words: sauvage ("wild") and vigne ("vine"). Sauvignon Blanc is a vigorous (wild) growing plant, and the shape of its leaves are similar to those of wild grapevines.
Fun Fact #2
One of Sauvignon blanc's parents is Savgnin (famous in the Jura, a tiny region in eastern France). This means Sauvignon Blanc is related to our other favorite grapes, Grüner Veltliner and Chenin Blanc.
Fun Fact #3
Cabernet Sauvignon is a cross of Cabernet Franc and Sauvignon Blanc. Sauvignon Blanc is actually the parent grape! This was discovered by Carol Mereidth at UC Davis. Before that, it wasn't thought possible that a white grape could be the parent of a red grape.
Fun Fact #4
In France, the region Entre-deux-Mers (which translates to "between two oceans," although the region is actually between two rivers) is where most of Bordeaux's Sauvignon Blanc is grown. There, the grape is often blended with Semillon or sometimes Muscadelle.
Fun Fact #5
3-mercaptohexan-1-ol (or 3MH) is the main thiol responsible for those delicious Sauv Blanc aromas. Our sensory threshold is around 60 micrograms/liter. Napa Sauvignon Blanc averages 100 to 200 micrograms/liter. New Zealand Sauvignon Blanc has reported levels of 3,500 micrograms/liter or 30 times as much as its California counterparts. Some people think the high levels found in kiwi-crafted wines have to do with the extended daylight hours that you get in New Zealand, which helps synthesize 3MH, though the jury is still out on the exact cause. Most likely, there are a series of compounding factors like– really cold fermentation (better for thiol and ester production), yeast strains used (certain strains produce more), daylight hours, clones used, and skin contact. Essentially, the more precursors, the more thiols you can create.
Want to learn more? Check out our other blogs below.