Introducing Napa's First All-Asian-Cuisine Pairing Menu
"We're always talking about how well our wines pair with outside-the-box flavors and cuisines. Now you can experience it first-hand at the tasting room." –CEO Mailynh Phan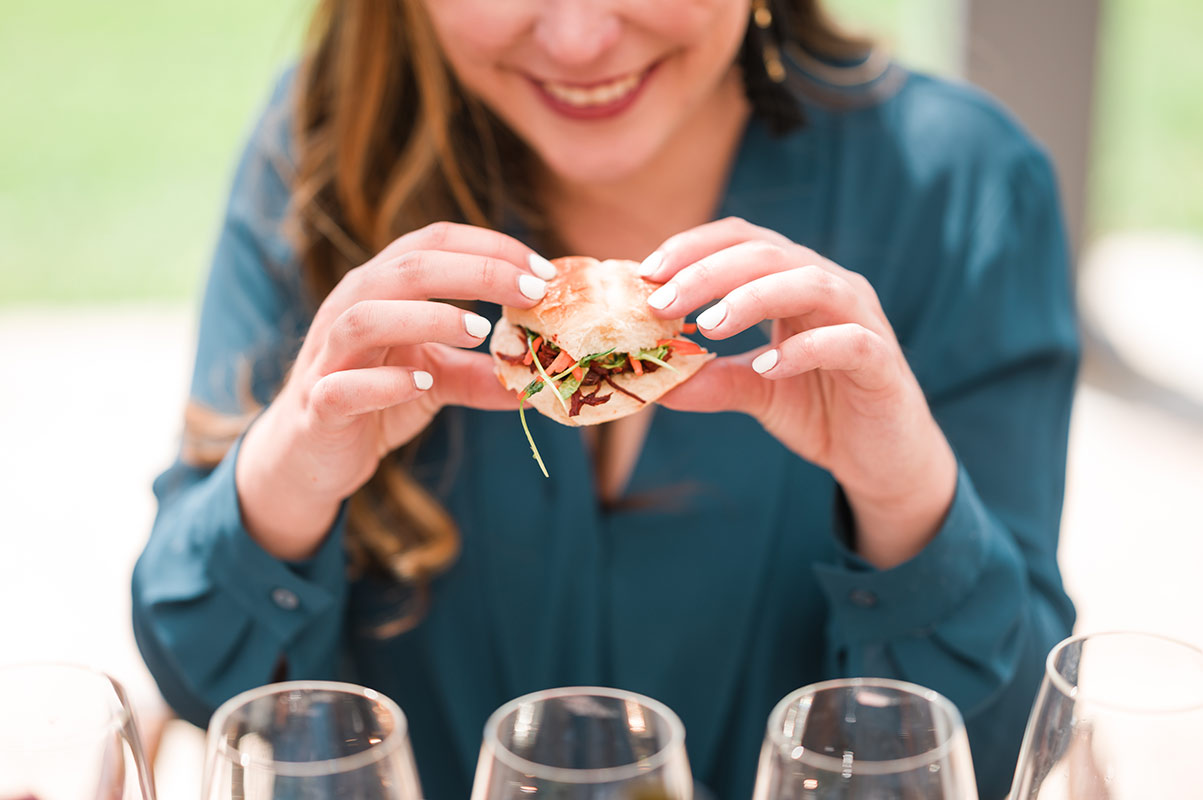 With the launch of our new pairing menu, we're bringing the first all-Asian food and wine pairing experience to the Napa Valley.
Our new menu is offered Friday through Sunday and features an array of familiar and unexpected Asian flavors, alongside a flight of handpicked wines. You're encouraged to mix and match the wines and dishes to find your favorite pairings. There are no rules because every palate is unique.
Sample Menu
Green Curry Dusted Popcorn
Poached Shrimp with a Kimchi Cocktail Sauce
Veggie Spring Roll with Tamarind Sweet Chili Sauce
Seasonal Chilled Soup– Spring Pea
Hoisin Pulled Pork Slider with Wasabi Slaw
The menu was created in collaboration with Chef Max Ackerman, aka Sushi Monkey, whose expertise in traditional Japanese cuisine and thoughtful sourcing brings our vision to life. Sushi Monkey worked with our Winemaker Timothy Milos and Assistant Winemaker Connor Bockman to create a lineup of colorful tapas-style dishes that add an exciting dimension to our wine tasting experience.
Chef Max sourced ingredients from some of the West Coast's coolest makers and purveyors:
Popcorn
Rancho Gordo, Napa
Cocktail Sauce Kimchi
Choi's Kimchi Company, Portland, OR
Tamarind Purée in the Sweet Chili Sauce
The Perfect Purée, Napa
Veggies for the Spring Roll and Chilled Soup
Napa Farmers Market
Duck for the Flatbread
Liberty Duck, Sonoma
Microgreen garnishes
Delta Microgreens, Fairfield
Reserve your food and wine pairing experience in advance. Or, enjoy Asian-inspired dishes from our à la carte menu, including Green Curry Dusted Popcorn, Veggie Spring Roll with Tamarind Sweet Chili Sauce, and Liberty Duck Flatbread, available in the tasting room until they're gone. See you soon!