We are the Newest Napa Green Certified Winery

We are officially a Napa Green Certified Winery! Going the extra mile in everything we do is an important part of how we run our business. We wouldn't have it any other way. Sustainability means more than just environmental stewardship, which is essential; it's also the commitment to a high standard of care for our team, our guests, and our community.
Winery CEO Mailynh Phan explains, "Putting all the pieces in place to earn this certification is an important step in fulfilling our mission to make Napa more inclusive by building bridges and relationships. We are proud to be a conscientious company raising the bar for wineries everywhere."
What is a Napa Green Winery?
Napa Green is one of only four sustainable winegrowing programs nationwide offering the opportunity for comprehensive soil-to-bottle certification in both the vineyard and winery. 40% of all of the certified sustainable wineries in CA are in Napa County. Napa Green wineries implement more than 100 sustainability and stewardship standards to: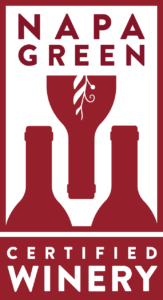 Save energy & water and increase efficiency
Prevent waste through recycling, composting and environmentally preferable purchasing
Reduce GHG emissions and the winery's carbon footprint
Commit to social equity
The whole facility is certified from production to hospitality
From napagreen.org
See how we're maintaining our commitment to Napa Green through our social channels and email newsletter. Even better, taste our wines in the tasting room or at home.