Seasonal Foodie Featured Maker
Meet Plant Bomb Founder, Rajiv Harry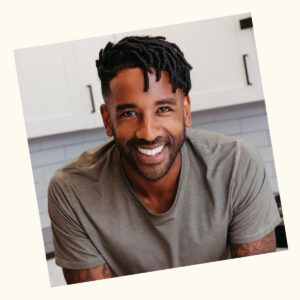 Our friends at Plant Bomb have found a way to balance vibrant flavors with clean eating. Their mission is to make pure, clean, plant-based food easy to bring to your kitchen and an utter joy to eat.
Food and wine pairings are often rich, heavy, and over-the-top–which we're here for–but sometimes it's nice to know what you're eating is delicious and nutritious. This season, we offer nourishing sauces and recipes à la Plant Bomb for all the goodness and mouthwatering flavor that's delightfully wholesome. We caught up with Plant Bomb owner and founder, Rajiv Harry, to learn why he started his business and what he hopes people experience when they try his sauces.
What inspired you to start your business?
My life's work has been in either the food or fitness industry. Over the years, I discovered food fuels the way that you feel, and my mission is to help people embrace and practice a healthier lifestyle. This inspired me to create a product that did just that. Plant Bomb Sauces are breaking down stigmas that healthy eating is bland or boring. Our healthy, versatile, delicious products make mealtime easier and encourage our community to eat clean without sacrificing flavor.
What do you love most about food and cooking?
I love that food can be simple and complex. I sway towards simplicity, and I appreciate foods most in their natural form and their ability to be transformed into delicious creations. Cooking is the most fun for me when sharing my culinary gifts with loved ones, and to experience them loving and enjoying the food fills me up.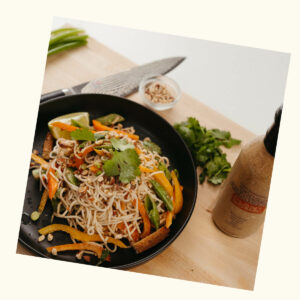 What is your go-to comfort food?
Potatoes in many different ways.
Describe your dream dinner. Who's there, what are you eating, what are you drinking?
On a private island
warm air and a cool breeze
a large family-style table
My wife, family, and closest friends
Tapas-style small plate tasting mixed with dishes exploring flavors from around the world.
Exotic cocktails, lite wines, and champagne.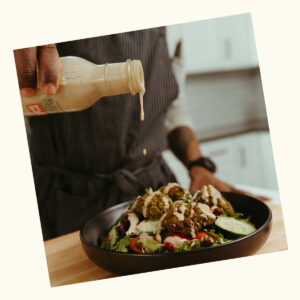 What is your hope for people experiencing your product for the first time?
I hope Plant Bomb transforms their food with explosive flavors and gives many options for creating tasty meals.
Are you a wine drinker? Any particular kind of wine you're loving right now?
I drink wine on occasion. My most recent favorite is a Riesling. By the way, RD Winery's Riesling is excellent 🙂
What most excites you about this food and wine pairing?
To see the extraordinary creations of the RD Winery Club members with our Sauces!